35 Healthy Vegetarian Slow Cooker Recipes That Don't Taste Like Mush
Turns out you can make sloppy Joes with...lentils?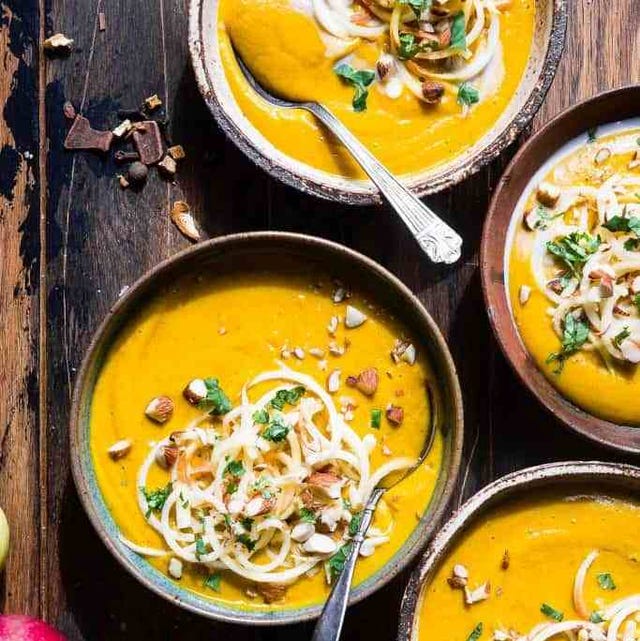 By now, you've gotten the memo that slow cookers (a.k.a. Crock-Pots) are magical kitchen appliances that basically do your cooking for you while you live your life. Since slow cookers are often known for braising meat and making meaty stews, though, vegetarian recipes can be a little harder to come by. Sure, you could substitute faux chicken or beef into typically-meat-filled slow cooker recipes, but sometimes you just want a vegetarian meal that tastes, well...vegetarian.
Don't go crying over spilled chili just yet, though. These mystical vegetarian slow cooker recipes do exist—and they're just as comforting (and often less expensive to make!) than their meaty counterparts. They often cook up quicker, too. Oh, and since plant-based proteins are so affordable, you'll likely save some cash cooking them up. (It's a win-win-win.)
If you ask me, the fiber- and protein-filled beans and lentils used in many of these recipes are extra delicious when they soak up other flavors and liquids in the slow cooker. Same goes for starchy vegetables, like winter squash and sweet potatoes, which have plenty of time to get soft and creamy as they cook low and slow.
Whether you're a full-time veg or just looking to add a few more plant-based meals to your repertoire, this extensive list of vegetarian slow cooker recipes—including everything from fruity oatmeal to nutritious soups and flavorful curries—will make your everyday eats as delicious, healthy, and convenient as ever.