Work is a major part of many people's lives. A cancer diagnosis is life-changing. So it makes sense that going through cancer will likely have a profound effect on your career. But while that shouldn't be your primary concern as you go through your treatments, eventually you will have to deal with aspects like whether or not to tell coworkers, how cancer treatment will impact your work, how your job might impact your recovery...and a zillion other little stressful details.
It's important to explore all of these questions, not just for your mental health, but also for your cancer recovery, says Bonnie McGregor, PhD, a licensed clinical health psychologist and executive director at the Orion Center for Integrative Medicine. "Your emotional well-being is tightly linked to your physical healing," she explains. "Stress, in particular, can lower your immune system and for many people, worries about their job are a big source of stress."
One way to lower your job-related stress is to have a plan to address those concerns before talking to your boss, she says. "Some people prefer to keep their cancer diagnosis and treatment private at work but if you can, it's best to tell people—at least your boss and HR—because it gives them the opportunity to support you," she says. "You may be surprised at how many people will want to step up."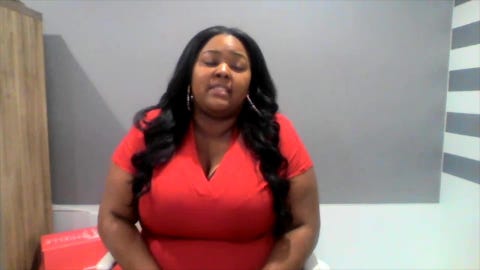 Be clear about what you will need from your job during your cancer treatment and after you return, McGregor says. This will be different for each person, but try to be as specific as possible about what time you will need off, how your work should be handled while you are gone, and what you will feel up to doing when you return, she says. And commit to yourself not to do more work than you can do or return sooner than you are comfortable, she adds.
The emotional and physical hurdles of returning to work after or during cancer treatment differs from person to person.
One of the biggest challenges is how to talk about the experience. Each person will have a different level of comfort, so only share what you want to, McGregor says. "I tell my clients to educate their coworkers about their specific work-related needs," she explains, adding that it's fine to draw boundaries about personal topics, like what treatments you had or side effects you experienced.
"It's perfectly appropriate to say, 'That's very personal, I'm not comfortable discussing that at work' or to give a vague answer like, 'Thanks for your concern but I'm fine and excited to get back to work. What's the status on our current project?,'" she says.

But many people with a cancer diagnosis find that working through treatments or returning to a job after is worth it, she says. "Cancer can be a big blow to your sense of identity but your job can help you maintain a sense of who you really are," she says. "It can even aid your healing process, giving you something to look forward to and a sense of purpose."
Every person's experience going through a cancer journey and a job will be unique—so we asked a group of women who've been through it to share how they returned to or managed their careers, without compromising their treatment.
"Supportive coworkers helped me get through cancer…twice."
"I got a cancer double-whammy: In 2018, I was diagnosed with breast cancer and went through treatment for it, only to be diagnosed earlier this year with endometrial cancer. I just finished up chemotherapy for the most recent cancer. It's definitely impacted my career.
"I work as an editor in the curriculum development department of a local college. Both times, I took one to two months off of work to go through cancer treatments. Thankfully, my workplace and manager were very sympathetic and accommodating. I was nervous to tell my boss and coworkers at first—it wasn't even an option to try and hide it—but I was amazed and how supportive everyone was. This made all the difference for me.

"I needed the time off for the treatments. I don't think I could have worked and done chemo. But after about a month at home I started to get really bored and missed my coworkers so it was actually a relief to go back to work. Human resources even offered counseling to help with the transition of returning, but I turned it down because I didn't feel like I needed it. My coworkers pitched in a lot and made it relatively easy to come back in and pick up where I left off. Having the option to work at home a couple of days a week also helped a lot with my recovery and transition back.
"Having said that, I definitely had some bad days. Residual effects from the treatments made it difficult to focus on the work and my productivity dropped for a bit. Both times, it has taken me a number of months to really feel like I'm back in the groove at work. I am truly grateful for the flexibility and benefits that my workplace offers, and I realize that I'm more fortunate than many in my situation. Having cancer two years in a row sucks, but I'm doing my best to move on—and being able to come back to a job I enjoy has really helped with that."
—Nicholle Carriere, Edmonton, Alberta, Canada
"Cancer treatments gave me the space and motivation to switch careers."
"I was diagnosed with invasive ductal carcinoma—a type of aggressive breast cancer—in 2015. Even though I was 16 weeks pregnant at the time, the situation was serious enough that I needed to start treatment immediately and I went through a lumpectomy surgery and six rounds of chemo. After my fifth son was born (healthy and totally fine!), I went through four more rounds of chemo, a bilateral mastectomy, 25 rounds of radiation, reconstructive surgery, and a radical hysterectomy.
"To say that it was a lot would be an understatement. Every facet of my life and body was turned upside down, including my career. Previously I'd been a hair stylist but that wasn't an option during my cancer journey. Any spare energy I had—not that there was any—needed to go to my family.
"However, cancer helped me discover a totally new career, as an author. I started writing soon after my diagnosis. At first it was just a way to get my feelings out but I quickly learned that I loved it and I had a knack for it. I began writing nearly every day. The more I wrote, the more at peace I felt. I decided that I wanted to actually write and publish a book.

Every facet of my life and body was turned upside down, including my career.
"It was a big goal, and a very daunting one at first. Writing during my treatments wasn't always easy. Chemotherapy frequently wiped me out, and the 'chemo brain' really slowed down the process as well. There was an upside though: Being stuck in bed so much gave me an opportunity to really focus on my writing in a way I never would have been able to do before cancer. By the time I finished my treatments, most of my book was written.
"When I completed my cancer treatments, it was an odd sensation of, now what? Months of stress, physical strain, waiting on results, bedrest, and sympathetic looks from strangers and then suddenly I was expected to just be back to normal, but I was definitely not my old 'normal' self anymore. I was so glad to have my independence back, but I didn't feel fully prepared to take on my responsibilities with my family and my writing.
"Now I was juggling appointments for parent-teacher conferences alongside meetings with my editor. It took me a while to find that balance between recovering from cancer, becoming a published author, and being a devoted mother. In 2018 my first book, Baby Bump, Cancer Lump, a book on how to deal with cancer when you're pregnant, was published.
"In a way, I'm grateful to my cancer for pushing me to do something I've always wanted to do but always pushed off until later. Thanks to my illness, 'Someday I should write a book!' became, 'Today I will write a book'—and the treatment gave me the time and space I needed to make that career change."
—Stephanie Partridge, Gilbert, Arizona
"Owning my own business made my cancer treatments both easier and tougher."
"On July 15, 2015, I was diagnosed with Hodgkin's lymphoma. I own a very busy daycare business, but while the chemo knocked everything out of me, quitting just wasn't an option, financially or mentally. Owning my own business was a curse and a blessing when it came to my cancer.
"On the plus side, my business gave me motivation, a sense of purpose, and a reason to get up every day—things that can be hard to come by when you're fighting cancer. It was also a practical decision: Every chemo treatment was several thousand dollars each and I constantly worried about insurance and money. Another perk was I had some flexibility with my schedule. I scheduled treatments every other Friday and would find a sub so I could take that day off of work. It gave me a little time to recoup over the weekend and I could take it easier on my hardest day, which was usually the Monday following chemo.
"The downside was that, because I was the one in charge, I couldn't rely on anyone else. Sometimes I couldn't get a sub; there were even times when I would have to take my little daycare kiddos with me to doctor's appointments. The hardest part was finding the energy to be able to interact with the kids and be everything I needed to be in a day.
Because I was the one in charge, I couldn't rely on anyone else.
"It also got really tough during cold and flu season since the treatments tanked my immune system and little kids are germ factories. That was the only extended amount of time I ended up taking off from work. In addition, I had to tell parents they couldn't bring their kids right after getting vaccines, because it was a live virus and my immune system wouldn't be able to fight it off. The stress was immense.
"Fortunately the parents were very understanding and tried their best to accommodate and help where they could. Treats, dinners, just checking in with me—all those little things meant so much to me and helped keep me going through my treatments. I have a really hard time asking others for help, especially with work, but cancer showed me how important it is to rely on others, and how so many people will step up when you need them."
—Jessica Rowley, Nibley, Utah
"I was expected to live just 18 months. Work helped me survive seven years."
"I was diagnosed with stage 4 colon cancer on Valentine's Day in 2012. This type is considered terminal and I was given less than 18 months to live. I was a mother and a Youth Services Coordinator librarian at two libraries in Hatfield—both jobs I loved more than anything. So I said, 'F--- that'—and I decided I was going to prove the doctors wrong.
"I tried any and every treatment that might help my cancer. I did radiation and chemo and had multiple surgeries over the next seven years. I also did a variety of Eastern and homeopathic treatments in addition to the more mainstream treatments. This meant I did have to take some time off, especially after my surgeries, but I continued my career.
"Thankfully my bosses and coworkers were very accommodating, giving me time off when I needed it and keeping me updated when I was out. I couldn't wait to get back to work. Whether or not I was in the office, I kept up on my special projects, designing book-themed events for the kids. During this time I even received several promotions. The hardest part was when the pain got the best of me and my body couldn't keep up with everything my heart and mind wanted to do.
"Those kids at the library meant everything to me. I hated lying around just being sick and the thought of getting to see them again was one of the things that kept me going through my treatments. The kids would come to me when they needed a book or advice and would talk to me about their lives. When they would worry about their future (something I also thought about a lot) I would tell them not to stress about college or jobs yet but just to think about what their next step would be, and to do that. I was also very open with my struggles, to help them see that they too could deal with hard things in their lives.
"I adored my husband and daughter but working gave me a sense of making a difference beyond the sphere of my immediate family. With a terminal cancer diagnosis, I needed a purpose in life, to feel like I was really making a difference in the world, and my job gave me that."
—Shauna Strattonmeier*, Hatfield, Massachusetts
*Editor's Note: Shauna recently passed away due to complications of her cancer. Her sister, April Copeland, shared Shauna's story with Women's Health, with her sister's permission before her passing. Shauna wanted her story told as a way to share hope and healing with other women who may be struggling with a terminal cancer diagnosis.
Charlotte Hilton Andersen has been a health and fitness writer for 12 years and is the author of The Great Fitness Experiment. Her three great loves are her family, jelly beans, and true crime podcasts on the treadmill (but only the ones against the wall so no one can creep up on her).