editor-in-chief

Liz Plosser
SVP/publishing director, chief revenue officer
Nancy Berger
ADVISORY BOARD
CARDIOLOGY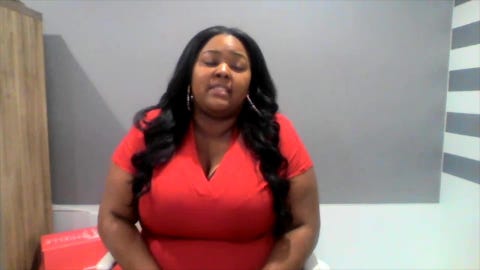 Jennifer H. Mieres, MD Professor of cardiology, Zucker School of Medicine at Hofstra/Northwell; senior vice president, Center for Equity of Care, Northwell Health
DERMATOLOGY
Mona Gohara, MD Associate clinical professor, department of dermatology, Yale School of Medicine Ellen Marmur, MD Founder, Marmur Medical
Joshua Zeichner, MD Director of cosmetic and clinical research in dermatology at Mount Sinai Hospital in New York City
FERTILITY
Sheeva Talebian, MD Fertility specialist and reproductive endocrinologist, CCRM New York
FITNESS
Ben Bruno, CFSC Certified functional strength coach and private trainer Betina Gozo, CFSC Certified functional strength coach; NASM corrective exercise specialist; Nike master trainer; creator of Women's Health Woman's Guide to Strength Training
Lauren Kanski, CPT NASM-certified personal trainer; functional strength and conditioning specialist; kettlebell skills specialist
Sohee Lee, MS, CSCS Evidence-based fitness coach and certified sports nutritionist; author of Eat. Lift. Thrive.
Stacy T. Sims, PhD Exercise physiologist; nutrition scientist; author of Roar: How to Match Your Food and Fitness to Your Female Physiology for Optimum Performance, Great Health, and a Strong, Lean Body for Life
GASTROENTEROLOGY
Samantha Nazareth, MD Board-certified gastroenterologist
GYNECOLOGY
Jessica Shepherd, MD, MBA Minimally invasive gynecology, Baylor University Medical Center; founder, Her Viewpoint Kate White, MD, MPH Associate professor of ob-gyn, Boston University
INTEGRATIVE MEDICINE
Robin Berzin, MD Founder and CEO, Parsley Health Frank Lipman, MD Founder and director, Eleven Eleven Wellness Center; creator, Be Well
INTERNAL MEDICINE
Keri Peterson, MD Physician, internal medicine; medical advisor, HealthiNation.com
MENTAL HEALTH
Ken Duckworth, MD Medical director, National Alliance on Mental Illness (NAMI)
NEUROSCIENCE
Claudia Aguirre, PhD Neuroscientist; founder, Doctorclaudia, Inc.
NUTRITION
Keri Glassman, RD President, Keri Glassman, Nutritious Life; author of The O2 Diet Amanda Baker Lemein, RD, MS Registered dietitian; nutrition communications specialist
ONCOLOGY
Karen H. Lu, MD Chair, department of gynecologic oncology and reproductive medicine, The University of Texas MD Anderson Cancer Center
PHYSICAL THERAPY
Jen Esquer, DPT, PT Creator, The Mobility Method and The Optimal Body
RELATIONSHIPS
Chloe Carmichael, PhD Clinical psychologist; founder, Carmichael Psychology; author of Dr. Chloe's 10 Commandments of Dating
executive editor
Abigail Cuffey
digital director
Amanda Woerner
creative director
Raymond Ho
managing editor

Laura McLaughlin
health and fitness director
Jacqueline Andriakos
features director
Kristin Canning
beauty director
Chelsea Traber Burns
entertainment director
Nojan Aminosharei
audience engagement manager
Amanda Lucci
senior editor
Lindsay Geller
e-commerce editor
Neha Tandon
associate editors
Jennifer Nied, Aryelle Siclait
associate visual editor
Jason Speakman
assistant editor
Jasmine Gomez
editorial assistant
Madeline Howard
CONTRIBUTORS
fitness editor
Caitlin Carlson
health editor
Jessica Migala
beauty editor
Celia Shatzman
entertainment editor
Amy Wilkinson
editorial fellows
Josey Murray, Jamie Spanfeller

social media fellow
Deasia Lamar
FASHION
executive fashion director
Kristen Saladino
senior fashion editor
Hannah Deely
senior accessories editor
Andrea Zendejas
fashion editor
Ann Wang
accessories editor
Jaclyn Palermo
associate fashion editors
Rachel Bogo, Danielle Flum
accessories assistant
Eunice Bruno
fashion assistant
Laynie Rouch
FOOD
chief food director
Kate Merker
senior food director
Catherine Lo
associate editor
Becca Miller
editorial assistant
Samantha MacAvoy
ART
art director
Betsy Halsey
deputy art director
Christine Giordano
designer
Jewelyn Butron
digital-imaging specialist
Jairo Corleto
HEARST VISUAL GROUP
chief visual content director, Hearst Magazines
Alix Campbell
executive visual director
Fabienne Le Roux
deputy visual directors
Brenda Armendariz, Scott M. Lacey
senior visual editor
Jenna Andrews
associate visual editor
Hannah Kaplan
COPY AND RESEARCH
copy and research chief
Marli Higa
EDITORIAL OPERATIONS
editorial business coordinator
Caryn Kanare
editorial business Assistant
Mariah Schlossmann
associate publisher, chief revenue officer
Leslie Picard
associate publisher/advertising
Stacy Nathan
executive financial director
Kathy Riess
associate publisher, integrated marketing
Kristina McMahon
group marketing directors
Marnie Braverman, Marianne Civiletto
INTERGRATED ADVERTISING SALES
executive directors
Jee Ahn, Andrea Foster, Margot Becker Giblin, Marissa Perri
account directors
Nicole Shuldiner, Julia Whalen
account manager
Alexis Herder
Midwest directors
Hope Agase, Annie Molenda
direct response account manager
Dawn Franco
advertising finance director
Elizabeth Bloom
executive assistant to SVP/publishing director
Taylor Martin
advertising coordinator
Flannery Wilson
assistants
Hannah Cianci, Jenna Herzberg, Eleanor O'Meara
research manager
Emma Chapman
INTEGRATED MARKETING
executive directors, marketing
Melissa Macaleer, Sara Schroeter
directors
Ariel Kaye, Meaghan Marks, Courtney Turnbull
associate director
Colleen D'Anna
senior manager
Rhyan Kelly
associate marketing manager
Kelly Zindel
events and special projects director
Kelly Mytrowitz
ART
creative director
Lulu Zeitouneh
Art director
Paula Prado
PRODUCTION
production manager
Michael Ruemmler
COMMUNICATIONS
director, PR & strategic partnerships
Lauren Doyle
CIRCULATION
VP, strategy and business management
Rick Day
Published by HEARST
president and chief executive officer
Steven R. Swartz
chairman
William R. Hearst III
executive vice chairman
Frank A. Bennack, Jr.
chief operating officer
Mark E. Aldam
secretary
Catherine A. Bostron
HEARST MAGAZINES, INC.
president, Hearst Magazines Group, and treasurer
Debi Chirichella
chief content officer
Kate Lewis
chief business officer
Kristen M. O'Hara
publishing consultants
Gilbert C. Maurer, Mark F. Miller
Main Office 300 W. 57th Street, New York, NY 10019 Online service.womenshealthmag.com Customer care 800-324-1731 Email WHLcustserv@cdsfulfillment.com MAIL Women's Health Customer SERVICE, P.O. Box 6000, Harlan, IA 51593-1500 For licensing and reprints Contact Wyndell Hamilton at Wright's Media, 281-419-5725 x152, whamilton@wrightsmedia.com Copyright © 2021 hearst magazines, Inc. Women's Health is a registered trademark of Hearst Magazines, Inc.
from time to time we make our subscriber list available to companies that sell goods and services by mail that we believe would interest our readers. if you would rather not receive such mailings by postal mail, please send your current mailing label or exact copy to: women's health, mail preference center, p.o. box 6000, harlan, ia 51593-1500.
Hearst Magazines International SVP/editorial & brand director
Kim St. Clair Bodden
deputy brands director
Chloe O'Brien
GLOBAL EDITIONS
Australia / China / Germany / Japan / Netherlands / Poland / Portugal / Spain/ United Kingdom