21 Women Share Their Favorite Mother's Day Memories
I'm not crying, you're crying.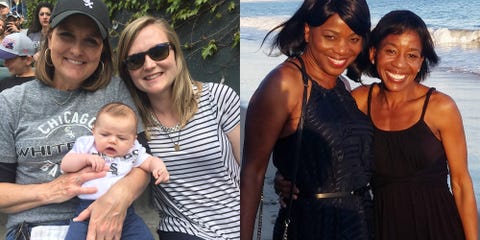 Bridget Gryna; Natalie Mitchell
Filed under "hardest jobs on Earth": NASA space shuttle pilot, Kanye West's PR representative, and of course, being a mom.
Which is why it's B.S. that some people call Mother's Day a "Hallmark" holiday. (IMO, moms deserve more than just one day of appreciation, but that doesn't make this day any less special!)
So in honor of Mother's Day, 21 real women shared their favorite Mother's Day memories. While flowers, jewelry, and fancy brunches are tried and true Mother's Day gifts, the memories that stick with you often don't carry a hefty price tag—as proven by these sweet, funny stories: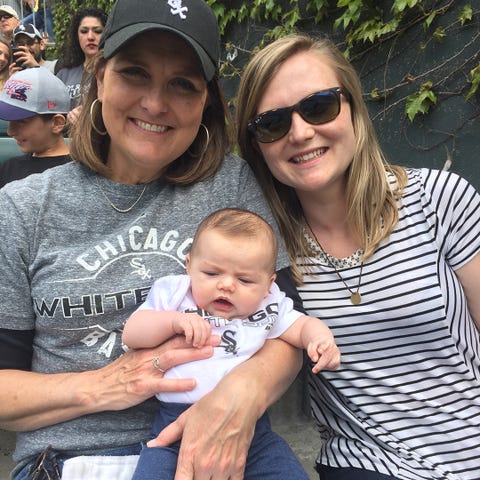 'My whole family went to a White Sox game.'
"Growing up, my family's Mother's Day tradition was going to a Chicago White Sox baseball game. My mom loves the White Sox and I inherited that fandom from her. When I became a mother in 2016, the tradition carried on when we took my 8-week-old daughter to her first White Sox game. With three generations present, the day was a beautiful blend of celebrating my new role as a mother and enjoying my own family's Mother's Day tradition." —Bridget Gryna, Chicago, IL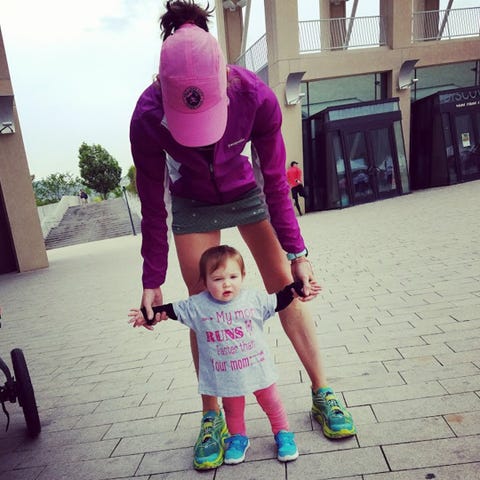 'I raced with my daughter and husband.'
"As an avid runner, one of the hardest things about being a new mom is the time away from dedicated training (and racing). In May 2016, a little over a year after my daughter Avi was born, I was finally getting my running groove back. I had just run a half marathon in April, and on Mother's Day weekend, ran a 5K to support the Susan G. Koman Foundation.
"We ran it as a family, my husband and I pushing Avi in the stroller. It was the moment I realized I could balance the two things I love most: running and family. Avi was just learning to walk, so it was fun to watch her wobble around in her 'My Mom Runs Faster Than Your Mom' t-shirt, excited by the thousands of people running together. A Mother's Day race has become a tradition." —Lauren Udwari, Sarasota, FL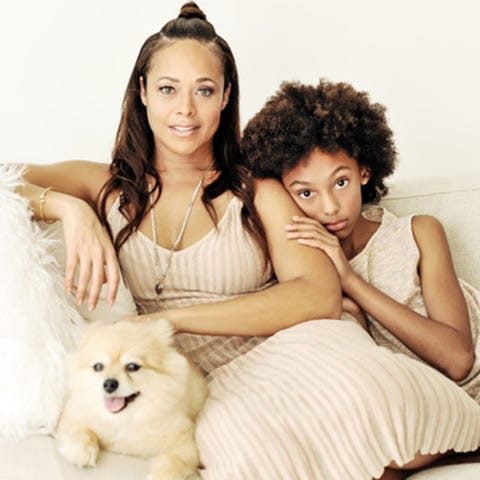 'My daughter made a special scavenger hunt for me.'
"My daughter Layla treats every Mother's Day with the same esteem as Christmas. Although she is only 10, she manages to find unique and creative ways to express her love for me. My favorite Mother's Day was when I woke up bright and early to find that Layla had created a scavenger hunt (which included a map/key) around the house for me. It was so much fun and we giggled the entire time because she stumped me with some of the riddles. The final prize was a beautiful handwritten card that included a drawn picture of Layla, me, and our Pomeranian Zola." —Maisha Dyson, Miami, FL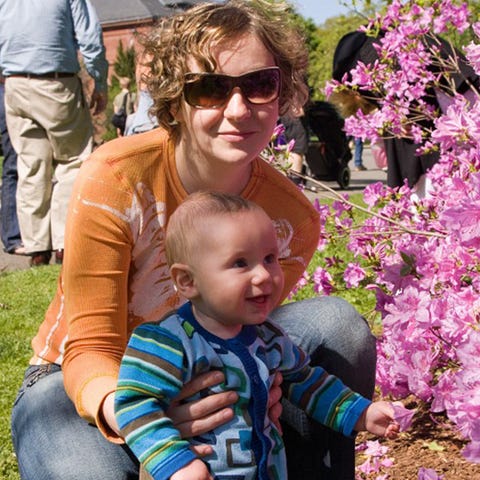 'We spent the day with our community.'
"We have a running tradition to go to the arboretum for Lilac Sunday, a famous Boston festival that happens on Mother's Day. The festival brings in thousands of people, generations of women celebrating motherhood, and the blooming of lilacs, my favorite flower. We always bring my parents and my husband's parents and grandmother and we feel like we're part of the Boston community on this very special day. We then follow this up with a fancy brunch. I now have three kids and they adore this yearly routine." —Diana Stelin, Boston, MA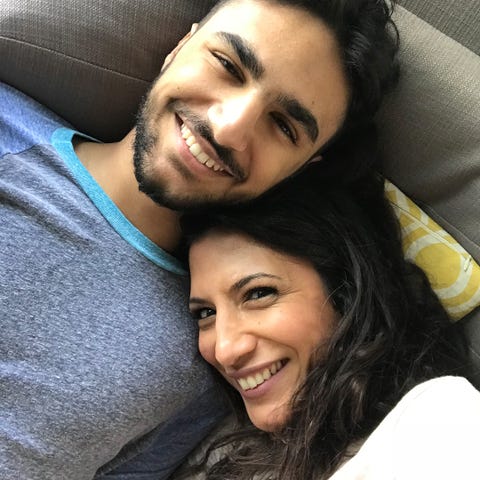 'My first Mother's Day card made me rethink my ideas about being a mom.'
"I was five months pregnant with my first child when I received my first Mother's Day card from my sister, just two days after the ultrasound that revealed his sex. I immediately burst into tears. Not of joy, but fear and inadequacy.
"As I read the words, 'Of all the moms in the world, your baby-to-be picked you; that's one lucky baby,' I turned to my own mom and cried, 'This baby isn't lucky at all. I don't know how to play baseball. I don't know anything about boys to raise one.' Of course this was ridiculous (especially because I'm a pediatrician!), but my outburst was really me being afraid that an adult mother-son relationship would never be as fulfilling as a mother-daughter one.
"Sixteen years later, as a mother of three kids of both sexes, I can tell you that I have never been more wrong." —Paria Hassouri, Los Angeles, CA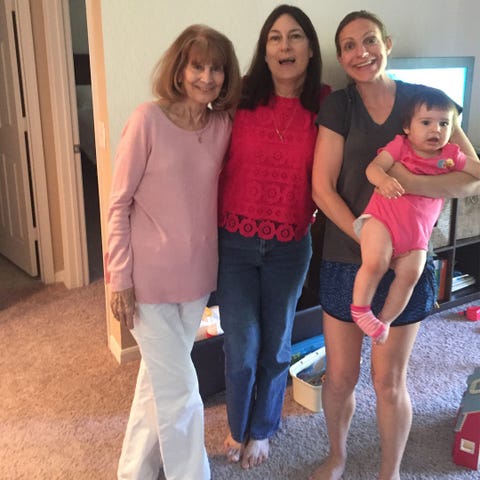 'I was able to spend Mother's Day with the most important women in my life.'
"After living away from my mother and maternal grandmother for years because of my husband's military career, I was able to be with them for Mother's Day two years ago. In fact, all four generations of women in my family were there—my grandmother, mother, my daughter, and me. My grandmother is no longer with us but she taught us what being a mother means, something I hope to teach my daughter too." —Jenn Beasley, Chicago, IL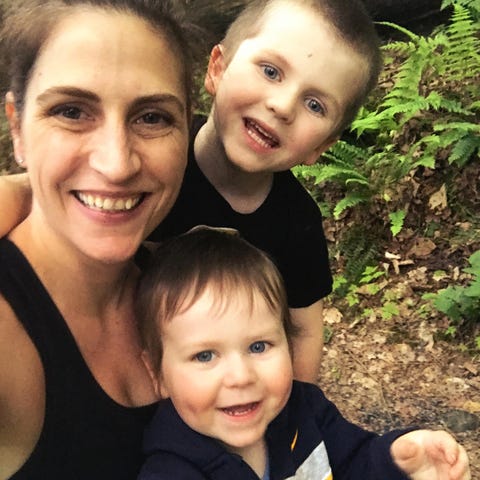 'My first Mother's Day as a single mom was the best one yet.'
"Last Mother's Day was the first one since I'd separated from my boys' dad and [started] living on my own. It was a drizzly, glum day, and I started off with my two beautiful boys, just thinking, 'How do I do this solo? How can I make it work so they have the best version of their mama, and I don't crash and burn?'
"By the afternoon the weather was still crappy, we had cabin fever , and I just decided, that's it, we need to get out. We went out hiking, the boys got muddy and dirty and tired and happy, and it was just a good day. That Mother's Day was the moment I realized, 'Yup, I've got this.'" —Carly Pizzani, Woodstock, VT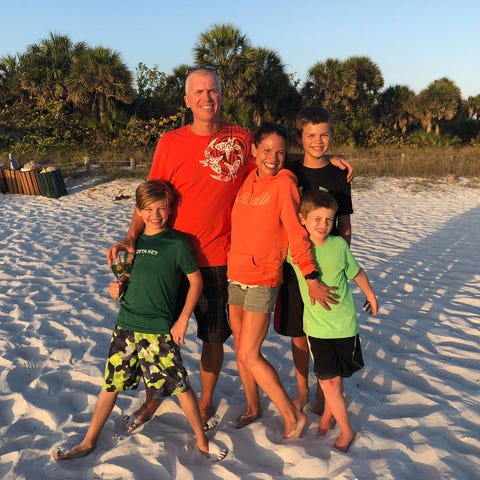 'I gave birth to my third son on Mother's Day.'
"My favorite Mother's Day memory was May 9th, 2010. I was nine months pregnant with my third child and, with two other young boys, ages 1 and 3, I was already exhausted and sleep deprived. My request for my Mother's Day gift was a full night's sleep, so my husband agreed to be on the night shift so I could sleep through the night.
"Close to 11 p.m., I woke up to a soaking wet bed. I sat wearily up and realized my water had broken. I did what any sensible soon-to-be mother of three would do: I frantically stripped the bed, started the wash, grabbed the clean clothes out of the dryer, woke up my husband and said, 'Quick help me fold the laundry! My water broke! I'm not leaving until the laundry's done and the house is clean, dammit!'
"An hour later, we headed to the hospital, me alternately screaming and laughing and complaining about my 'one night of sleep' being interrupted. As soon as the epidural was in place, I promptly fell soundly asleep on the operating table. The nurse kept shaking my shoulder to wake me up, saying, 'Honey, your baby's going to be out any minute, you're not going to want to miss it!' When I heard, 'It's a boy!' I yelled, 'Are you sure??' and everyone laughed. I fell in love five seconds later with son #3. Best Mother's Day ever." —Kristjana Cook, Annapolis, MD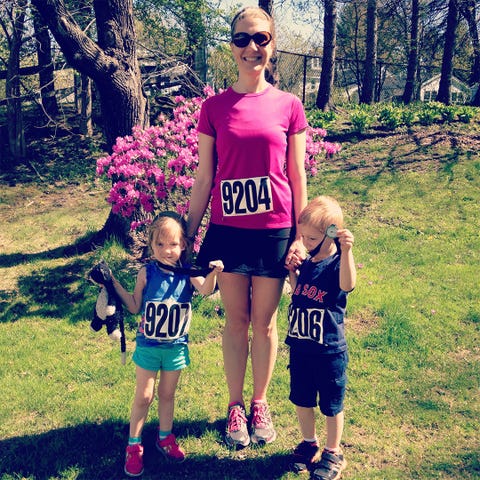 'I ran a 5K with my kids.'
"My favorite Mother's Day memory was the first time my twins 'ran' a Mother's Day 5K race with me. It was a joy for me to have them participate in something that I love so much. Sure, they complained about being tired almost the whole race. They spent more time jumping in and out of the stroller than actually running, but afterwards, when they received their medals, all was forgotten. They thought it was so cool and couldn't wait to do another race." —Angela Bekkala, Dover, NH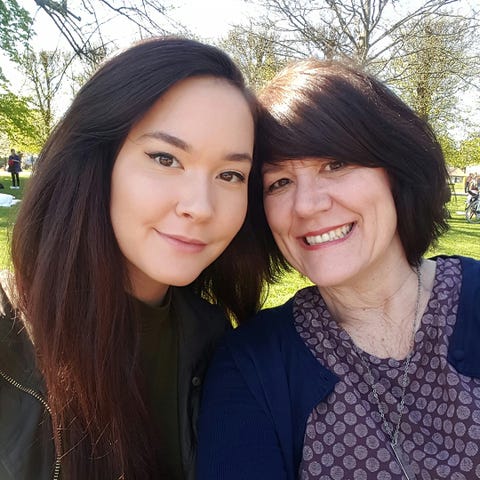 'I spent the day with my daughter in Copenhagen.'
"The day before Mother's Day 2016, I arrived in Copenhagen, Denmark to visit my daughter Jaye, who was studying abroad. The next day, she brought me to an outdoor café for a traditional Scandinavian brunch, then we bought a bottle of wine and we walked to the Rosenborg Caste Gardens. We sat on a bench to talk and enjoy our wine (which we drank right from the bottle).
"Jaye gave me the most beautiful gift—a small journal with a handwritten entry for every single day we had been apart, since she left for Denmark five months before. The entries included thoughts about our conversations, disagreements, things she knew I would have found funny, and how my recent cancer diagnosis weighed on her. Without me knowing it, she kept me with her the whole time she was gone." —Joanne Stanway, Chelmsford, MA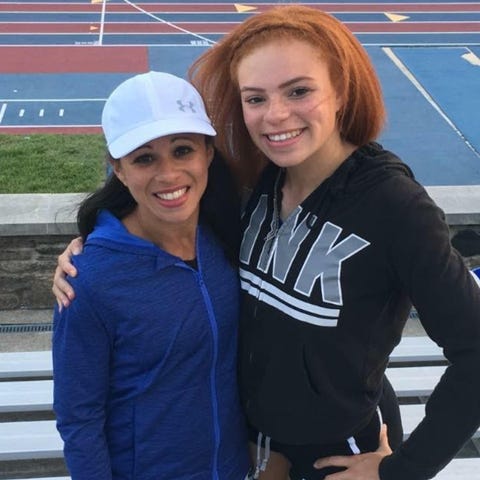 'My 6-year-old gave me the perfect gift.'
"I've always said, 'My daughter was and is my birthday and Mother's Day gift.' She was born two days after my own birthday and two weeks before Mother's Day.
"When my daughter was 6 years old, my husband helped her create a keepsake that captured her little handprint. I remember the giggles and whispers streaming in through the dining room. Hours later, I was presented with the beautiful gift—my 6 year old's little hand forever encased inside a beautiful wooden shadow box. Every time I look at it, I'm reminded of that Mother's Day and my little girl being 6 years old. This year she will be 17, but I'll always have her little hand inside that wooden shadow box." —Kara Tucker-Forrest, Hollywood, MD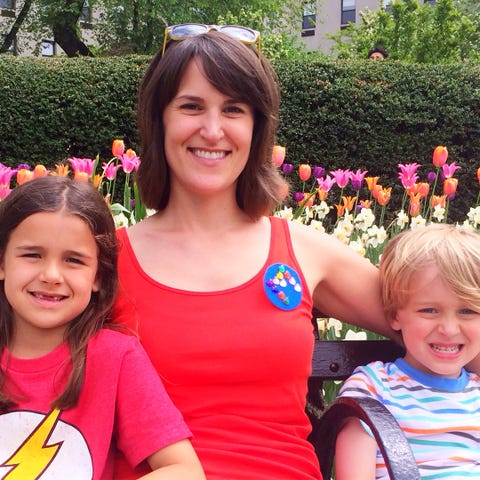 'I got a day with no complaints.'
"The rule is, on Mother's Day, I get to choose the activity for the day and everyone has to get on board with no complaints. My kids still complain but my husband isn't allowed to, and he has to deal with the whining as I'm 'off the clock.' I usually drag my family somewhere they don't want to go.
"When we lived in NYC, years past have included the Staten Island Boardwalk, Wave Hill, the Met, and Chelsea art galleries. One year, we visited the Conservatory Gardens in Central Park. My son made me the button I'm wearing out of recycled materials. The weather was perfect and there were zero complaints from anyone." —Meg Yonts, Northern Michigan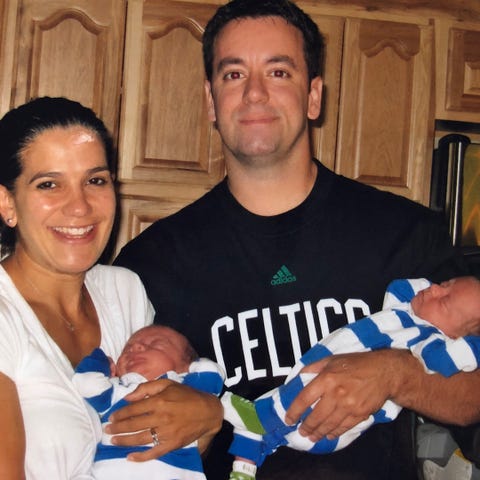 'I brought my twins home healthy and happy.'
"I was an avid runner before becoming pregnant, and I figured not much would change when my husband and I decided to start a family. Then, we got the shock of our lives when I found out I was having twins! My very first Mother's Day was in 2009, about four weeks after my boys were born. I have never felt more bloated, out of shape, and exhausted in my life, but having two healthy, beautiful boys who did not spend one minute in the NICU after they were born was by far my life's greatest accomplishment!" —Allie Burdick, Ellington, CT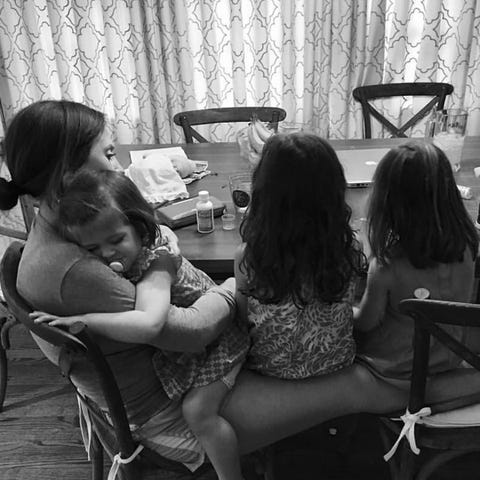 'I let myself be in the moment.'
"This photo pretty much sums up life with my 6, 4, and 3 year olds. Moments before, they were fighting over who could sit on my lap. There was whining, pushing, and tears. With a triple meltdown on the horizon, I propped my legs up and said, 'Why don't you all just sit together.'
"I didn't know my husband had taken this picture. In this moment, I was enough. I don't always allow myself to be in the moment, even though I'm constantly in my head reminding myself to be present. In this moment, I was thinking about weekly meal plans, reading homework still left undone, laundry, dinner clean up... Now, I have the privilege of seeing this moment as my husband did, as my daughters did—just a mommy who found a way to allow her children a chance to live in a moment, to find calm in the chaos." —Meg O'Keefe, Atlanta, GA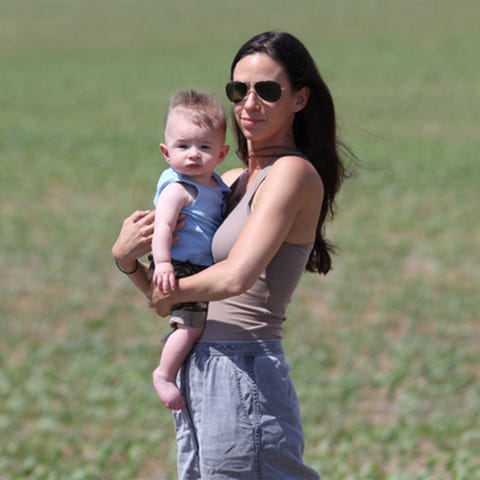 'I realized I was so lucky to be a mom and have my family.'
"My favorite Mother's Day was my first. My son was around 5 or 6 months, and we spent the day just being a family of three. Robert brought me coffee in bed, we headed downstairs, and I made breakfast. We gardened, got some work done around the house, and then went for a long drive through some of the more rural areas around our home. I remember looking out the window and just taking it all in, realizing that I finally had my little family and feeling so lucky to be a mom. I didn't need any big grand gestures, and luckily my husband knows me well enough to know that. I just wanted simple family time and that's what we did." —Erica Sara Reese, Lehigh Valley, PA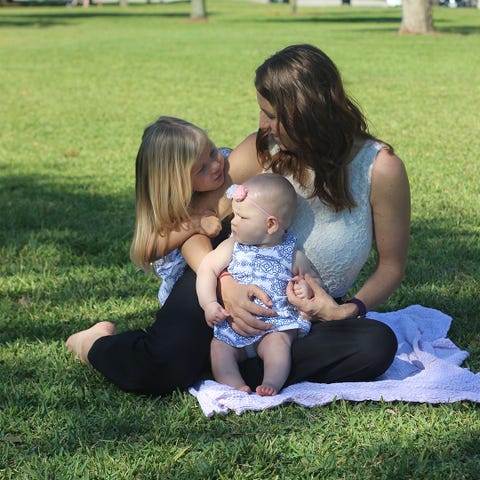 'I enjoyed the perfect brunch after a difficult year.'
"Mother's Day 2016 will always be special to me because it was my first as a mom of two—and that particular day was a bright spot in the middle of some pretty stormy parenting weather.
"My first daughter had been easy and tricked me into thinking the first year with every baby would be like that. Then came #2 in November of 2015. And she was...not easy. Wonderful, full of spirit, incredibly loved by all of us, but like most babies, she had her days and nights mixed up for months, was both clingy and fussy (a tough combo!), and because I'd also started working from home, was by my side every hour of every day.
"I almost cancelled our Mother's Day brunch in 2016, because I was exhausted from weeks of teething and fevers and fussiness and dreading the idea of taking two kids to a nice restaurant, but I decided to give it a shot and I'm so glad I did. The girls were beautifully behaved and I got a very rare 'mom's in the picture' picture that I treasure, and it hangs in my office to this day." —Katy Widrick, St. Petersburg, FL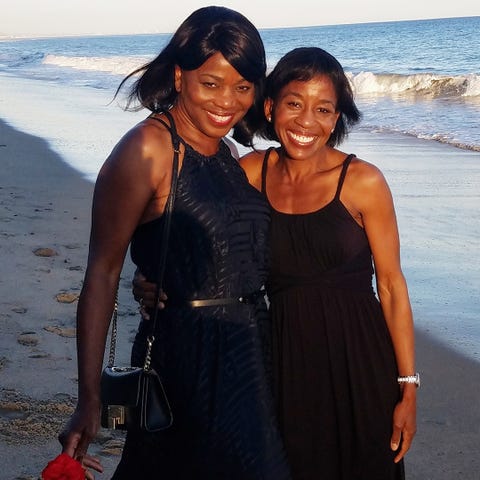 'I celebrated with my mom after she helped me through a tough time.'
"One Mother's Day celebration that stands out is from three years ago, after I had major knee surgery. My kids were only 2, 4, and 8 and getting around in that first month was really hard. My mom was an incredible help—she put her own needs aside to assist with everything imaginable, from driving me to physical therapy to cooking meals and taking my kids to school.
"That Mother's Day was my first real outing since the surgery and the whole family was together—my parents, my husband, and our three kids. I remember the laughter, and pure joy around the table. I vividly recall toasting my mom and thanking her so much for everything that she has represented to me: hard work, taking chances, enjoying life, and unconditional love. I couldn't have gotten through that challenging time without my mom and I wanted her to know just how much I love and appreciate her." —Natalie Mitchell, Los Angeles, CA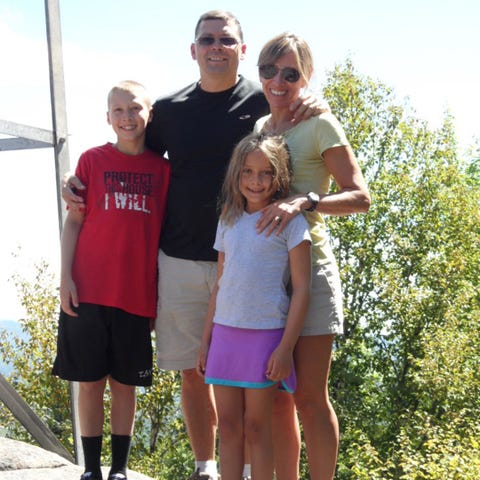 'We were all together, doing my favorite things.'
"These days, it feels like most of my Mother's Days are spent on the sidelines of soccer games, but there was a time when my family could make the most of the day. For me, the best Mother's Day included all my favorite activities: a sunrise run by myself; church; brunch at a favorite restaurant; and a family hike in the nearby state park, dog included. The sun was shining, we were together, and there wasn't much else I could have asked for. Those are the gifts I treasure." —Amanda Loudin, Ellicott City, MD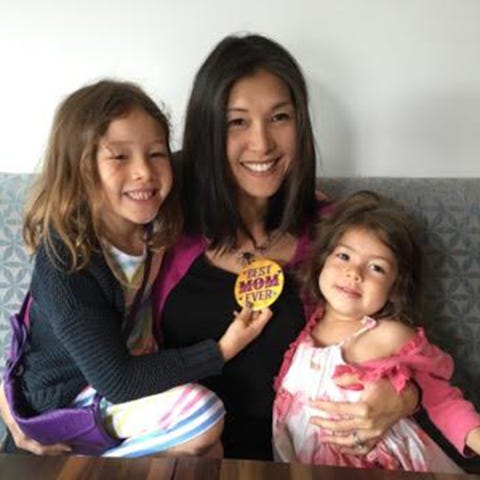 'I let my daughters take over.'
"Mother's Day is an affair in our house. The festivities were initiated by my partner, but our daughters have started to add their own touches to the day and to take control of the agenda. Over the last few years, they have created 'spas' for the family to relax and be pampered. It demonstrated that Mother's Day wasn't just a 'Hallmark' holiday but showed that they were thoughtful, kind, giving humans." —Christine Koidin, San Francisco, CA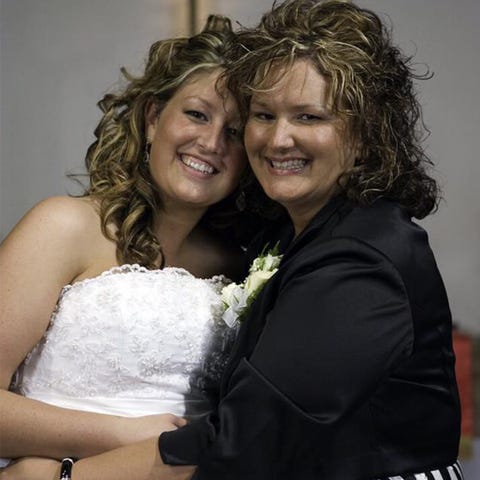 'Two words: new rollerblades.'
"One Mother's Day, when I was maybe 11 years old, my mom bought me and my brother new rollerblades. At the time, she said it made her happy to see us happy. I thought she was crazy, but since it worked in my favor, I went along with it.
"Now I have experienced first-hand the beauty of my own children, joyful from gifts they receive or surprise outings.
"FYI: I still think my mom's crazy. She could have had a nice weekend to herself! But I love my mom and her selfless love. Roller blades for all!" —Mandy Waysman, Sioux Falls, SD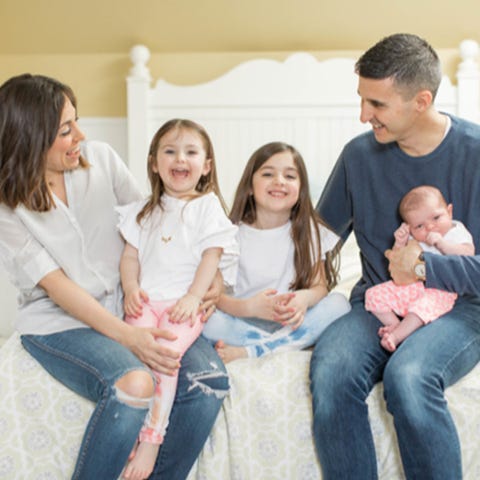 Nicole Culver / Steve Depino Photography
'My husband and daughter surprised me with homemade breakfast.'
"I'd just had my second baby a few weeks prior, so my husband got my older daughter up and they made pancakes, coffee, and handmade construction paper flowers and delivered it to me in bed while I was holding our newborn. It was so simple and so sweet. We sat in bed, ate breakfast, and drank coffee in my favorite mug. It was perfect." —Nicole Culver, Rockville Centre, NY